The Baby DUT

This items is no longer available.
Please look under Hot Foil Machines
for all current options


- Probably the lowest priced machine on the market!


The Baby DUT is a compact table-top hot foil printing machine with an automatic foil rewind system. The Baby DUT takes a table-top space of just 6" x 10", making it suitable for even the smallest of desk spaces.
The Baby DUT is a great machine for a beginner or for someone who has limited budget/usage. It is a light duty machine, with a small print area and it is capable of printing onto a wide range of products and surfaces including paper, card, leather, PVC, plastic etc. This makes it great for printing onto business cards, stationery, photo mounts, promotional products as well as greeting cards and lots more.
The Baby DUT is a vertical type of hot foil press which is great for printing onto books, diaries as well as other products mentioned above.
---
Foiling with Blocks
The Baby DUT uses metal dies which can be made from your black and white artwork. We will give you details of companies who make these (based in UK) and they take about 3-4 days to delivery them to you in a jiffy bag. The cost, for a business card size plate/block is between £9.00+VAT for a thin metal plate to about £15.00+VAT for a thick quarter inch plate. The latter will last longer and not bend so easily.
The die is attached to the machine using a special tape and the heated to the correct temperature. Foil colour of your choice is fed into the machine. When you pull the handle, the hot block presses onto your card, paper, plastic, PVC or leather product and this is what creates the print.
Foiling with Type
We also offer an optional Type Holder with the Baby DUT at a cost of £29.99+VAT when purchased at the same time as the Baby DUT or £39.99+VAT if purchased at a later date.
Type holder is simple device which is designed to hold lines of type (within slip cases). We recommend that it is suitable only for two to three lines of type, not exceeding the width of the type holder. Slip Cases, Type, Quads & Spacers are all optional extras which can be purchased from our recommended suppliers - we do not supply them ourselves.
The Baby DUT is designed mainly to print onto soft substrates such as leather key fobs, coasters, bookmarks etc. It may also be suitable for other substrates and surfaces but with limitations.
The optional type holder is designed to be affixed onto the die holder (supplied) using two screws. In cases where the type holder is purchased at a later date, we will require the die holder to be sent back to us so that we can drill and tap two holes which will enable the type holder to be securely held onto the die holder.
When using the type holder with type, you may need to adjust the vertical height in order to increase the daylight opening - this depends on the thickness of the product which you wish to print onto.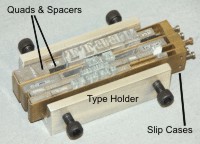 Click image to enlarge
---
The Cost
The Baby DUT costs just £399.00+VAT. The Baby DUT is also supplied with the following as standard:-
* Tool Kit
* Die/Plate Holder (60mm x 90mm)
* Instruction Manual
* 12 Warranty back to base
PLUS FREE STARTER KIT:-

* Free Delivery to mainland UK (Worth £15.00+VAT)
* 1 x Roll of Metallic Gold Foil for hot foil printing*
* 1 x Roll of Metallic Silver Foil for hot foil printing*
* 1 x Die Bonding Tape (To stick dies to die holder)
* 1 x Pressphan (Backing substrate)
* 6 x Bonded Leather Key Fobs
* 6 x Bonded Leather Bookmarks

Optional

Type holder £29.99+VAT when purchased with the Baby DUT or £39.99+VAT of purchased at a later date. This does not mean you get Type, Slip Cases or Quads & Spacers with the Type Holder as these are available as options.
---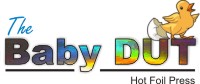 ---
We also supply foils in the
following metallic colours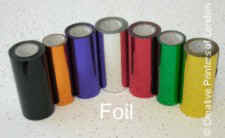 Click image to enlarge
Currently, we stock foils in the
above seven colours.
Foils are supplied in standard 400 feet
length. We can cut them to any size
in multiples of one complete inches,
with a minimum size of 2" width.
The cost per inch wide x 400 length
is £2.30+VAT. P&P is extra and can
be advised on request.
Please read this information carefully before purchasing
any products from Creative Printers of London
as they form part of our contract to supply goods and services.
Our company policy is one of being totally transparent
with our customers.
With your purchase, we offer you a list of recommended suppliers
for making Blocks/Dies, Type, Materials etc. This information is given in good faith but Creative Printers of London will not be held responsible for any issues arising when dealing with these companies, or in the event on non-availability of these products.


Please Note: We do not supply Type, Slip Cases or Quads & Spacers ourselves - you will need to contact our recommended suppliers for these. These suppliers could be in the UK or abroad.
Please Note: We do not make blocks ourselves - you will need to contact our recommended suppliers for them to be made for you from your exact artwork.
---





Hot Foil, Foils, Printing, Ribbon Printing, Hot Foil Printers,
Hot Foil Stamping Machines, Hot Foil Printing Machines,
Foil Printing on to Key Fobs, Pens, Diaries, Greeting Cards.
Foil Stamping, Gold Leaf Printing, Foil Printers, Foil Blocking Machines
Hot Foil Printed Business Cards, Hot Foil Printed Pens, Photo Mounts.
Heat Presses, T-Shirt Printing Machines, Mug Presses, Mug Printing Machines,
Sublimation, Ribbon Printing Machine, Ribbon Printers, Metaza, Metal Printing Machine,
Doming, Screen Printing Machine.