Professional Photopolymer Hot Foil &
Pad Printing Plate Maker
at just £125.00+VAT
(Recommended Retail Price £299.00+VAT)




Benefits of making your own Hot Foil Polymer Plates
Keeps set up costs low (Thus making you more competitive)

You can turn jobs around faster (e.g. same day)

No need to keep or invest in metal type - use any font on your PC

Incorporate logos etc. without any problem

Ideal for one-off jobs or where small runs are required where the cost of a
metal plate cannot be justified.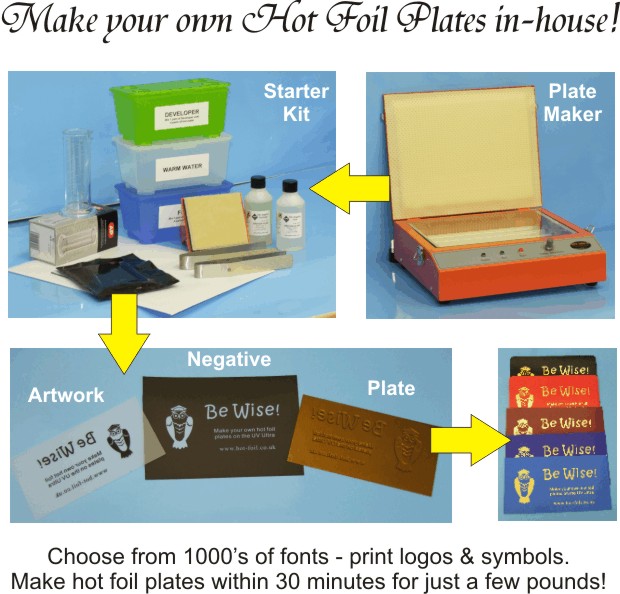 UV Exposure Units / Plate Makers
We supply a top of the range Plate Maker at a highly attractive price. Unlike others, we do not try and sell you 'Nail Dryers' as cheap substitutes. Whilst we can very easily buy in Nail Dryers and sell them to you even cheaper than our competitor, we would rather not as we feel that you need proper tools for the job, otherwise, you will be compromising on quality.

Whilst others charge around £485.00 for a similar unit to our UV Ultra MK 2, we sell it a rock-bottom price of just £125.00+VAT! We buy in bulk and pass savings on to you.

Our Plate Makers are extremely well made from industrial grade steel and then powder coated to give you many years of trouble-free service. Each Unit is supplied with 6 x 9watt Lamps (365NM) to give you the correct amount of UV light in order to produce high quality plates. Less than 6 lamps could mean that it will taker longer to expose your plates and it may even have a bearing on the final quality of your printing plate.

For UV lamps to work effectively, they need to be pointing directly at the plate and not at angles as in Nail Dryers sold by others. Two lamps are not sufficient, ideally you need all six lamps to point at the printing plate.


UV Ultra MK 2 £125.00+VAT

The UV Ultra is also a quality exposure unit with a 999 seconds digital timer and a separate 'Post Exposure Tray'. A digital timer is very useful when you require precise exposure times. At the end of the chosen exposure cycle, the lamps switch off automatically thereby avoiding any over exposure.

The MK 2 is manufactured our of industrial grade steel and professionally powder coated. It is fully 'CE' compliant too. Six powerful UV Lamps (365 NM) will ensure that you get perfect exposure everytime.
Other systems on the market either have a very simple 2 minute timer (which is not enough to expose plates) or a Analogue Mechanical Timer. However, the UV Ultra MK 2 has a digital 999 seconds timer which outshines all other systems on the market.
Precise exposure times are very important in making high quality plates as under or over exposure can have detrimental effects on your plate. However, with the UV Ultra MK 2, you can set the timer to the second, thus making the UV Ultra MK 2 a highly sought-after price of equipment over anything else on the market.

Just look at the UV Ultra MK 2's cool features!
New modern design
Robust all metal construction (not plastic)
Light source: Ultra Violet Light (UV)
6 x 8w Powerful UV lamps 365 NM (Not just 2 small lamps)
Easy to replace 'twist 'n lock' UV lamps
Exposure duration: 0 - 999 Seconds Digital Timer (not a very short 2 minute Analogue Timer)
Post Exposure Drawer
Firm contact between artwork and media
On/Off switch
Fused for safety
Maximum exposure area 260mm x 210mm (No need to struggle with a very small exposure area)
Power supply 220/240v (Adapters for Europe supplied)
Machine dimensions (unpacked) 300 x 290 x 75mm
Machine dimensions (packed) 320 x 310 x 90mm
Weight: 5kgs.
Fully 'CE' approved.
Spare lamps £2.50+VAT each.
The Hot Foil Plate Making Process (simplified)
Create mono artwork onto transparency artwork paper (using laser printer is best)

Place artwork and Negative Film together in the 'UV Ultra' plate maker and expose for a few seconds

Wash Negative in Fixer solution and then develop in developer solution

Once dry, place negative film and blank polymer plate into the 'UV Ultra' plate maker and expose for
a specified time period.

Wash plate in hot water, which creates a relief image of your text and logos
Dry plate, post expose in UV Ultra Unit - Your hot foil plate is now ready to use.

~ Total time taken to make a hot foil plate from scratch is about 30 minutes (using this method only).
~ Several plates can also be made at once on our UV Ultra Unit.


FREE - Easy-to-understand Instruction Manual supplied with purchase with many images in full colour

This Mini Starter Kit costs £75.00+VAT
We supply a mini optional 'Starter Kit' for making polymer hot foil plates. The Starter Kit consists of:-

2 x A4 Artwork Sheets (For laser printers)*
2 x A4 Negative Film
100ml Negative Developer
100ml Negative Fixer
Washout Pad
Measuring Cylinder
2 x Lifting Tongs
10 x Polymer Hot Foil Plates cut to Business Card Size (Metal backed for better heat transfer)
3 x Tubs for Developer, Water and Fixer
Instructions

Images shown above are for illustration purposes only and contents appearance may vary subject to availability.

On-going supplies/costs

20 x A4 Artwork Sheets £12.00+VAT
1 Liter of Developer £11.60+VAT
1 Liter of Fixer £11.60+VAT
20 x A4 Negative Film £27.00+VAT
1 x A4 Sheet of Polymer Hot Foil Plate (uncut) £32.00+VAT
(or cut into 10 x equal Business Card Sizes £34.00+VAT

With improvements in the quality of polymers, better quality exposure unit, and better grades of foils, it has now become possible to create your own hot foil polymer plates in-house, at a fraction of the cost of metal plates.


No more waiting for days for your plate to arrive by post - now you can take an order and deliver the product within the hour!



QuickTrim Polymer Hot Foil Plates - NEW!
A new type of Hot Foil Polymer Plate that you can cut with a scissors! This new Plate can also withstand temperatures of upto 160 degrees Centigrade.

Sold as A4 Sheet. Price: £16.99+VAT





.
---
Metal Letters/Type

There will always be instances where you will need to perhaps print basic text in order to print just a small quantity of products (or even one-off's). In such cases, it may be too time consuming to even make a Plate and may even be a little prohibitive in terms of costs. This where Metal Letters (know in the trade as 'Type') could prove to be immensely useful and highly cost-effective.

To see how we can help you with your purchase of Type and accessories, please click here.


---
Metal/Plate Cutting Shears

Two powerful, cost effective, shears which have the ability to accurately cut PCB laminates, plastics, polymer plates up to 2.00mm thick and aluminium up to 1.5mm. Now you can cut polymer plates to size, on demand.

Using the correct tools for the job also means there is a lot less chance of personal
injury. Our competitor encourages you to use very sharp knifes to cut plates, which
we feel could cause you severe injuries if the knife should slip whilst cutting.
An important feature of these shears is safety. Free access to the cutting area is prevented by heavy Perspex shielding extending along both sides of the blade. A safety latch is fitted to the pivot to prevent operation without it first being released. For positional accuracy the cutting bed is fitted with a rule which is recessed to assist in securing the PCB or sheeting whilst cutting is in progress.

The 8" Cutter is extremely compact with an overall height of only 575mm and a footprint of 335 X 140mm. It has a cutting bed of 110mm wide from the blade although wider material can be cut.

The larger 12" Cutter will cut materials up to has a height of 670mm and a footprint of 440 x 245mm. It has a larger cutting bed 225mm wide from the blade although once again wider material can be cut.

8" Cutter costs £175.00+VAT
12" Cutter costs £225.00+VAT

You can also cut metal plates with a tin cutter (like a scissors) from DIY stores, but in our opinion, they can leave
a kink in the plate as you cut through the plate in stages. This can adversely affect the quality of the printing plate.