IMPORTANT!
Please visit our new website at
www.fastfoil.co.uk
This new website now replaces the one which you are currently on.
Any prices or information shown on this old website
is now obsolete and will no longer apply.
Contact Us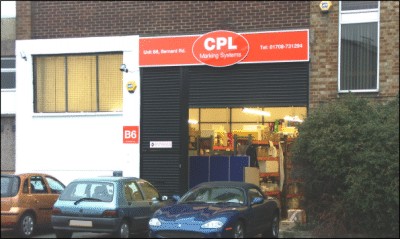 Creative Printers of London (CPL)
Unit B6, Bernard Road
Danes Road Industrial Estate
Romford
Essex
RM7 0HX.

Telephone:-
01708-731294 (2 Lines)
01708-747171



E-Mail

cplsales@print1.co.uk
or
creativeprinters@btconnect.com


Please Note:
Brochures

As all information is now available off our website (including prices), we no longer produce brochures.


To Visit Us
If you wish to come and discuss any aspect of your proposed purchase with us at our above premises, then please contact us on the above telephone number during normal office hours. We do not open at weekends or bank/public holidays. All visits to our premises by prior appointment only please. Due to the busy nature of our business, please give us around three working days advance notice where possible. Thank You.
To Purchase Goods
To purchase goods, please call us in the first instance on 01708-731294 or 01708-747171. If calling from overseas, please add the prefix +44 1708-731294 or +44 1708-747171

If` calling from North America, please note that you may be anything from 6 to 9 hours behind our time (BST). Therefore, to ensure that you get to speak to someone personally, it would be advisable for you to call us as early in the morning as possible, for example between 7am-8am (your time) when the time in the UK will be anything from 1pm to 4pm. We open for business at 9.30am and close for business at 5.30pm, Monday-Friday.

Payment Methods
Our preferred methods of payment are by 'Paypal', Cash (GBP only), Cheques (UK only), Bank Drafts (UK only) or 'BACS' and 'CHAPS' transfers, Credit & Debit Cards. We reserve to right to refuse payment by some Credit/Debit Cards or Cheques without providing any explanation (even for those residing in the UK).

We will not accept Credit Card/Debit Card payments from overseas customers unless agreed with us in advance. We may require additional proof of ownership of same.

Legal
We follow all current legislation and are happy to take back your purchase if returned to us within seven working days from the date of receipt of goods in order for you to inspect the goods..
In order for us to accept the above and offer a full refund, the goods must be unused, and any accompanying CD's or DVD's must remain unopened. If these are opened, then it will be assumed that the customer has used the goods as the CD's and DVD's form an integral parts of your product/package.
It is the customer's duty to ensure that goods are returned to us undamaged and packed such that any potential damage can be avoided. Customers must also inform us in writing or by e-mail of their intentions to return goods within the stipulated period. We cannot accept notice by telephone.
It is a condition of this contract that a purchaser of our products will bear the shipping costs of returning the goods to us within the above stipulated period.