The FoilMate System
Toner Hot Foil Printing without using Blocks!
ID Required for Purchase
Do not confuse this high quality toner foiling machine with anything else. We have tried the rest and have been disappointed with the results. They, in our professional opinion are also cheaply made. The FoilMate system on the other hand from Creative Printers is a heavy duty machine made from entirely high quality material and designed for the professional user.
The FoilMate from Creative Printers is a amazing machine which is capable of adding metallic foils to ordinary photocopied or mono laser printed items. This process will not work with inkjet printed items.
No matter how intricate or how bold the image, the FoilMate will foil it with perfection. With the FoilMate, you can foil a complete A4 sheet in one single and smooth pass without and hassle or fuss.
The FoilMate is great for producing metallic finished items without using expensive metal plates. Producing foiled documents, short or long runs is easy.
If you can manually feed a piece of paper in to your printer, then you can use the FoilMate - it's that easy!
Foils supplied for the FoilMate are special foils in that they will only adhere to the black images of a photo or laser copy.
The Foil on the FoilMate junior is fed from the front of the machine to the rear. Used foil is wound onto a spool at the rear of the machine. It can be disposed of with ease, thanks to it's quick release waste foil mechanism.
With the FoilMate, there are no handles to to pull, no time wasted in lining up pressure screws, no multiple pressings to foil an entire A4 sheet and no need for special bases. The FoilMate employs state-of-the-art technology to offer you smooth and effortless foiling.
A customer who recently purchased our FoilMate for producing wedding cards and inserts reported back to us that she was able to foil 70 sheets in 7 minutes without any problems - isn't that just wonderful!
The FoilMate guarantees to bring any dull black and white photo/laser copies back to life in an instant!
Here are just some projects for your FoilMate:-
* Wedding Cards & Inserts
* Greetings Cards
* Invitations
* Place & Thank You Cards
* Awards & Certificates
* Menus
* Business Cards & Compliment Slips
The FoilMate works best with smooth paper and card. Textured paper or card in not recommended with the FoilMate. Copies which have been foiled via the FoilMate must not be fed through the laser printer again as it could cause damage to your laser printer. They can however be fed through an inkjet printer so that you can combine full colour images (say a engagement picture of the happy couple) along with foiled cards to give that unique and stunning effect.
Just look at the benefits :-
- No costly plate charges
- No waiting for plates to arrive
- Produce even one-off's economically

Create stunning effects with
The FoilMate System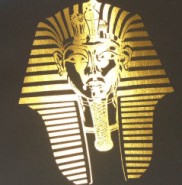 Foiled on the FoilMate
.. yes, you can even photocopy onto
dark or coloured paper/card and the foil will
only stick on to your image and not rest of
the paper!

Click on image to enlarge
---
Foil Costs
The foils used by the toner foiling system are different to
those in traditional hot foil printing, although the print effects are identical.
The foils supplied for the FoilMate are available in the following size: - 30cm wide x 150 metres length (approx. 12" wide x 450 feet in length).
Your 12" wide foils can be cut down to whatever width you require them in (smallest we will cut is 2" width). There is a charge of £1.50+VAT per cut on top of the cost of the foil.
Foil colours currently available are:-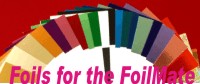 Toner / Sublimation Foils

Please visit our new website for current
details and prices at
http://www.fastfoil.co.uk/foil.html