Platen Hot Foil
Printing Machines
Hot Foil Coding Machine
£99.00+VAT

For printing Lot Numbers, Expiry Dates
etc onto packaging materials.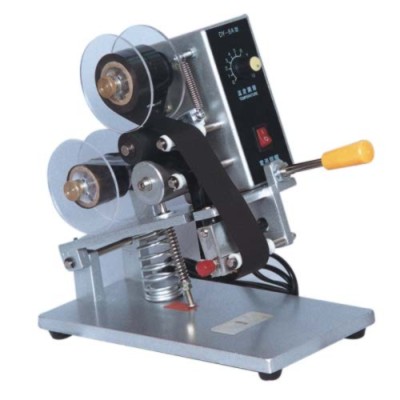 Maximum 3 Lines of Type
Manual Code/Date/LOT
Hot Foil Printing Machine
This manual code printer/hot stamping machine can be used for printing LOT numbers, Expiration / Manufacturing Dates etc on a wide range of products/surfaces, such as:-
Type:
A box of type (characters) are supplied free of charge, including multiple digits from 0 to 9 and a few frequently used English letters including:
E X P L O T M F G and a few symbols such as . /
Additional box of Letters/Numbers can be ordered at a cost of £35.00+VAT
Able to print maximum 3 lines at the same time.
Easy operation to change Type
1 x 100mm wide black ribbon supplied free of charge. Additional rolls are £4.60+VAT per roll
Power supply: AC220v or AC110v
Product weight: 3.5kg
Dimensions: TBA
---
Semi-automatic Hot Foil Printing/Coding Machine £299.00+VAT
(RRP £499.00+VAT)

This neat little machine is electrically operated via a foot pedal. You can set the machine to press once or set it to operate automatically whereby it keeps stamping whilst you load and unload your bag. The foil is also fed automatically.

Suppliers to
Her Majesty's Government,
Schools, Colleges, Universities, Industry
and new Business Start Ups.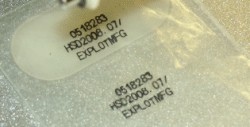 Example of printing on a clear
grip seal bag.
www.print-a-ribbon.co.uk for ribbon printers and ribbon printing machines, bumper sticker printer
www.tshirtsandmore.co.uk for heat presses, t-shirt printing machines, Mug Printing Machines, Sublimation
www.printplastic.co.uk for ID Card Printers, Plastic Card Printers, Plastic Card Printing Machines
www.craft-robo.net for craft robo, craft robo pro, hot foil pen
www.123cut.co.uk for plotters, cutters, craft robo, craft robo pro,
Hot Foil, Foils, Printing, Ribbon Printing, Hot Foil Printers,
Hot Foil Stamping Machines, Hot Foil Printing Machines,
Foil Printing on to Key Fobs, Pens, Diaries, Greeting Cards.
Foil Stamping, Gold Leaf Printing, Foil Printers, Foil Blocking Machines
Hot Foil Printed Business Cards, Hot Foil Printed Pens..
Heat Presses, T-Shirt Printing Machines, Mug Presses, Mug Printing Machines,
Sublimation, Ribbon Printing Machine, Ribbon Printers, Metaza, Metal Printing Machine,
Doming, Screen Printing Machine.