Platen Hot Foil
Printing Machines
IMPORTANT!
Please visit our new website at
www.fastfoil.co.uk
This new website now replaces the one which you are currently on.
Any prices or information shown on this old website
is now obsolete and will no longer apply.
Type, Slip Cases,
Quads & Spacers, Type Trays etc.


Generally, we tend to use metal or polymer plates when using the hot foil printing process. This means that you can incorporate any typestyle, in any language as well as any logos, symbols etc, when creating your artwork on your computer. Plates give you greater flexibility and can save you time too.

However, there may be instances when you will need to print basic text in a hurry and thus require an alternative method. Well help is at hand with the introduction of our individual metal letters (also know as 'Type').

Type is basically individual metal letters which are quickly assembled in a 'Slip Case' (to hold letters securely in a straight line) and then inserted into your optional Type Chase, ready for printing.

Type is supplied as a set consisting of Capital Letters, Lowercase Letters, Numbers and Punctuations. There are usually several letters for each letter of the alphabet contained within a font (set) with more emphasis on more frequently used letters in the English Language (e.g. Vowels such as a, e, i, o, u). Therefore, you are likely to get more of these vowels then you are of least used letters such as x, y and z's.
Please click here to see Type Synopsis and here to see Type Sizes.

Once you have purchased your initial set, you can buy extra caps only, lowercase only or figures only - but only as a complete pack and not as individual letters.

We can also supply '@' symbols as used in e-mail addresses at extra cost. These are not supplied as standard in any font.

Type is sold in various heights with the most popular sizes being 10pt, 12pt and 18pt. We plan to supply 'off the shelf' typefaces in these sizes and in five different typestyles - eg:-

10pt Universe Medium (5A/13a)
12pt Plantin Italic (5A/13a)
18pt. Ashley Script (3A/6a)
18pt. Times New Roman (3A/6a)
18pt. Times Italic (3A/6a)

Other sizes and typestyles can be cast for special orders with a lead time of about 2 weeks. Full payment will be required before we can process special orders. As these will be special orders, no refunds can be made for 'change of mind' etc. To see complete list of Type Styles, please click here.

If you require a typeface is another font size (other than 10pt, 12pt, 18pt as above), you will also require Slipcases and Quads & Spacers for use with that particular size. Please ask for prices.

As mentioned above, Type is often used to print basic and simple text in straight horizontal lines. If you require fancy typestyles or logos, then you would be best advised to get a plate made either by using our plate making service or by making your own polymer hot foil plates using our plate making system.

Type is mainly used to print onto paper, card, leather and pvc, pencils. However, it is not designed to be used onto pens or hard materials as the type would wear out very quickly.


Tidy-Rack £64.99+VAT

Tidy-Rack is a product which we had developed for our ribbon printer customers who required a compact storage system for holding their foils for ribbon printing. The Tidy-Rack equally lends itself to holding foils etc and we feel that it could be useful accessory for the hot foil trade too. It is particularly suitable to holding the Craft Dragon range of foils due to the size of the foil being smaller than our own conventional 400 feet of foil. Having said that, it does hold larger foils too by missing every other hook.


Slip Cases £19.99+VAT each

Our Slip Cases are made from Stainless Steel with clamp screws at both ends with usable internal length as 100mm (4").
We will hold 10pt, 12pt and 18pt Slip Cases as standard stock items. Other sizes to order subject to minimum quantities.

Some used Slip Cases also available in brass (various sizes), please enquire. price: £14.00+VAT each.


Quads & Spacers £22.50+VAT each

Quads & Spacers are metal blocks which are used to fill in the excess space in a slipcase (Quads) and also to leave gaps between words (Spacers - these are much thinner than the Quads). There are usually plenty quads and spacers in a pack to be used in several lines of Type.
We will hold 10pt, 12pt and 18pt Quads & Spacers as standard stock items. Other sizes to order subject to minimum quantities.

Type (Metal Letters for printing basic text in horizontal lines)

(Sold as a complete set consisting of Capital Letters, Lowercase Letters, Punctuations and Figures). Please refer to the 'Type Synopsis' to see how many letters you will receive in a pack. Please note that this should be seen as a guide only as some variances can occur from time to time, over which we do not take any responsibility. Our type is sold subject to these conditions.

To get a better idea on point sizes, please click here.
To get an idea on Type Styles, please click here.
To get a better idea how many letters you get in a pack, please click here (and refer to 5A/13a etc below)
10pt Universe Medium (5A/13a) £49.99+VAT
12pt Plantin Italic (5A/13a) £63.60+VAT
18pt. Ashley Script (3A/6a) £78.99+VAT
18pt. Times New Roman (3A/6a) £78.99+VAT
18pt. Times Italic (3A/6a) £78.99+VAT

These are generally stock items, available immediately from stock. For any other fonts in other sizes and styles, the casting time for metal letters (availability) will be about two weeks from receipt of full payment in advance.
'@' Symbols are available at £1.50+VAT each. They are available in 6pt, 8pt, 10pt, 12pt and 14pt only.


Extra set of figures/numbers £19.99 per pack.
Numbers are supplied as standard with the Capital letters. A pack of capital letters or lowercase letters are also available to purchase individually, price on application.


Tweezers £1.99+VAT each
These plastic tweezers are great for picking up letters assembling them into Slipcases. As they are plastic, they will not damage or scratch your metal letters so easily.

Wooden Type Trays £25.00+VAT each

These are used to stores type in individual compartments for safe-keeping. Each compartment can store many letters and there are 72 compartments in a type tray.


Plastic Type Trays £7.50+VAT each

There are 24 compartments in each tray. The lid has three plastic hinges at the rear and two clasps at the front. These trays can easily be stacked up. The wooden and the plastic type trays can also be used to store findings, jewellery, buttons, threads etc.

These clever type trays also have pull out section so that you can store larger items such as Slip Cases, Slip Cases etc. Please see image below for an example how this Type Tray can be used.

Foils £3.00+VAT per inch width x 400 feet in length.
These are the foil colours which we currently stock :-
Metallic Gold, Metallic Silver, Metallic Red, Metallic Blue, Metallic Green, Metallic Copper, Metallic Black.

Minimum purchase of our foil is 2" in width x 400 feet in length which equals £6.00+VAT per roll (i.e. £3.00 x 2"). Minimum spend is £10.00+VAT before shipping costs are added.

This grade of foil has also been tried and tested successfully using our metal backed polymer plates as well as the QuickTrim polymer plates without metal backing.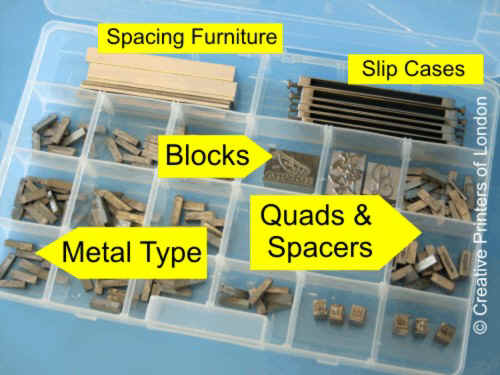 Prices subject to change without prior notice.
Suppliers to
Her Majesty's Government,
Schools, Colleges, Universities, Industry
and new Business Start Ups.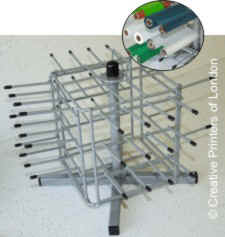 'Tidy-Rack' for holding and
neatly organising your foils.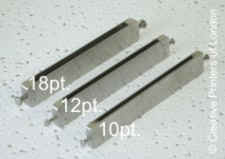 Slip Cases stocked in three
different point sizes.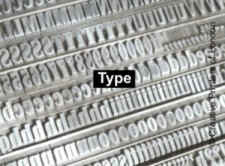 This synopsis is an example only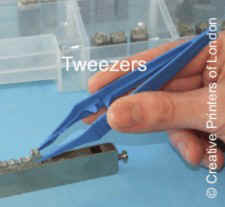 Plastic tweezers make it easy to handle
small letters and also protects them
when handling.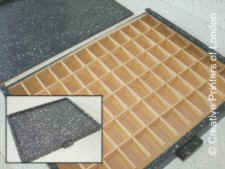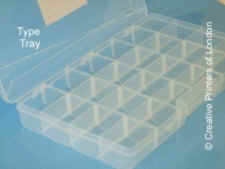 Plastic Type Trays with individual
Compartments for easy storage
of Type, Slip Cases, Quads and
Spacers etc.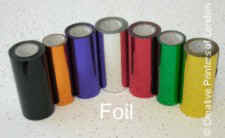 We stock seven of the most popular
metallic foils. They are all 400 feet
in length and can be cut to any width
(Minimum 2" width x 400 feet in length)
www.print-a-ribbon.co.uk for ribbon printers and ribbon printing machines, bumper sticker printer
www.tshirtsandmore.co.uk for heat presses, t-shirt printing machines, Mug Printing Machines, Sublimation
www.printplastic.co.uk for ID Card Printers, Plastic Card Printers, Plastic Card Printing Machines
www.craft-robo.net for craft robo, craft robo pro, hot foil pen
www.123cut.co.uk for plotters, cutters, craft robo, craft robo pro,
Hot Foil, Foils, Printing, Ribbon Printing, Hot Foil Printers,
Hot Foil Stamping Machines, Hot Foil Printing Machines,
Foil Printing on to Key Fobs, Pens, Diaries, Greeting Cards.
Foil Stamping, Gold Leaf Printing, Foil Printers, Foil Blocking Machines
Hot Foil Printed Business Cards, Hot Foil Printed Pens..
Heat Presses, T-Shirt Printing Machines, Mug Presses, Mug Printing Machines,
Sublimation, Ribbon Printing Machine, Ribbon Printers, Metaza, Metal Printing Machine,
Doming, Screen Printing Machine.