Platen Hot Foil
Printing Machines
Toner Hot
Foil Printing Machine
Suppliers to
Her Majesty's Government,
Schools, Colleges,
Universities, Industry
and new Business Start Ups.




(Plate making accessories available at extra cost - please see below)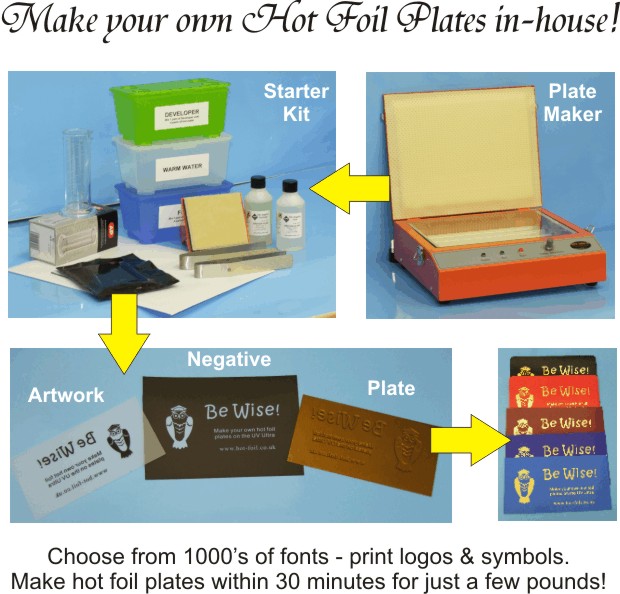 This Mini Starter Kit costs £64.00+VAT
We supply a mini optional 'Starter Kit' for making polymer hot foil plates. The Starter Kit consists of:-

2 x A4 Artwork Sheets (For laser printers)*
2 x A4 Negative Film
100ml Negative Developer
100ml Negative Fixer
Washout Pad
Measuring Cylinder
2 x Lifting Tongs
10 x Polymer Hot Foil Plates cut to Business Card Size (Metal backed for better heat transfer)**
3 x Tubs for Developer, Water and Fixer
Instructions

Images shown above are for illustration purposes only.

* We do not recommend the use of inkjet paper for creating artwork as inkjet printers do not always produce dense enough images which are so vital for the correct production of hot foil plates.

** We only recommend the use of metal backed polymer plates for hot foil printing as they transfer heat far better than plates which do not have metal backing.

---
On-going supplies/costs

20 x A4 Artwork Sheets £12.00+VAT
1 Liter of Developer £11.60+VAT
1 Liter of Fixer £11.60+VAT
20 x A4 Negative Film £27.00+VAT
1 x A4 Sheet of Polymer Hot Foil Plate (uncut) £21.00+VAT
(or cut into 10 x equal Business Card Sizes £22.50+VAT

---
With improvements in the quality of polymers, better quality exposure unit, and better grades of foils, it has now become possible to create your own hot foil polymer plates in-house, at a fraction of the cost of metal plates.

With metal Type almost extinct and costing hundreds of pounds per font, you can now make your own hot foil using any
font on your PC together with logos and symbols. No need to keep investing money in expensive Type when you now have the luxury of making your hot foil plates in-house. A single font can cost you about the same price as our Plate Maker - with our Plate Maker, you can print in 1000's of different fonts without having to outlay 1000's of pounds in Type!

No more waiting for days for your plate to arrive by post - now you can take an order and deliver the product within the hour!



The Hot Foil Plate Making Process (simplified)
Create mono artwork onto transparency artwork paper (using laser printer is best)

Place artwork and Negative Film together in the 'UV Ultra' plate maker and expose for a few seconds

Wash Negative in Fixer solution and then develop in developer solution

Once dry, place negative film and blank polymer plate into the 'UV Ultra' plate maker and expose for
a specified time period.

Wash plate in hot water, which creates a relief image of your text and logos
Dry plate, post expose in UV Ultra Unit - Your hot foil plate is now ready to use.

~ Total time taken to make a hot foil plate from scratch is about 30 minutes.
~ Several plates can also be made at once on our UV Ultra Unit.
~ Cost to produce a business cards size plate is around £2.00 each.

---

Benefits of making your own Hot Foil Polymer Plates
Keeps set up costs low (Thus making you more competitive)

You can turn jobs around faster (e.g. same day)

No need to keep or invest in metal type - use any font on your PC

Incorporate logos etc. without any problem

Ideal for one-off jobs or where small runs are required where the cost of a
metal plate cannot be justified.

---
Metal/Plate Cutting Shears

Two powerful, cost effective, shears which have the ability to accurately cut PCB laminates, plastics, polymer plates up to 2.00mm thick and aluminium up to 1.5mm. Now you can cut polymer plates
to size, on demand.
An important feature of these shears is safety. Free access to the cutting area is prevented by heavy Perspex shielding extending along both sides of the blade. A safety latch is fitted to the pivot to prevent operation without it first being released. For positional accuracy the cutting bed is fitted with a rule which is recessed to assist in securing the PCB or sheeting whilst cutting is in progress.

The 8" Cutter is extremely compact with an overall height of only 575mm and a footprint of 335 X 140mm. It has a cutting bed of 110mm wide from the blade although wider material can be cut.

The larger 12" Cutter will cut materials up to has a height of 670mm and a footprint of 440 x 245mm. It has a larger cutting bed 225mm wide from the blade although once again wider material can be cut.


You can also cut metal plates with a tin cutter (like a scissors) from DIY stores, but in our opinion, they can leave
a kink in the plate as you cut through the plate in stages. This can adversely affect the quality of the printing plate.
---
What is required to ensure good quality polymer plates?

Factors such as quality of artwork, correct exposure times, washing out, use of correct grade of foil (for hot foil), selecting the correct hot foil machine temperature, dwell time, substrates etc. can all affect the quality of your finished plate and hence printing quality. We will give you good guidelines with your purchase (and also offer after-sales telephone support) but would like to stress that some, or a combination of such factors can affect the quality of your plate and printing which are out of our control for which we cannot hold any responsibility. Our exposure units are sold on this strict understanding.
It must however be pointed out from the outset (which others fail to mention) that polymer plates will not totally replace the need for metal plates. Unlike polymer plates, metal plates is not something which you can make at home due to their complexity. Making Polymer Plates requires practice and following tips contained within our instruction manual closely.
Metal plates may still be required where you have the following within your design: very fine fonts, fine lines, large print areas etc. Metal plates may also be required for certain surfaces.

These plates work best on machines which have 'toggle action' and those with pressure adjustment screws.


---